Origin Leisure has over 40 years experience in designing and constructing hydrotherapy pools and has a unique understanding of the benefits of this form of natural therapy.
Each hydrotherapy pool is designed with the individual needs of the user, carer and family in mind. What are the main considerations when building a hydrotherapy pool?
Unlike traditional domestic swimming pools, building a hydrotherapy pool requires specialist knowledge and equipment. A hydro pool needs to be tailored to the specific needs of an individual which will affect the planning and design, as well as the equipment required and cost of a hydrotherapy pool.
At Origin Leisure, we believe it's the smaller details that make the difference and take time to understand how the hydrotherapy pool may help the user, both now and in the future if their symptoms change. While a hydro pool is crucial for pain relief and treating major physical problems, it isn't just the water that's important. For many conditions, the lighting, heating, strength of the jets and even sounds can impact on the comfort of the user.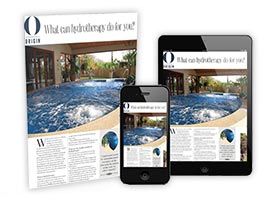 Download "What can hydrotherapy do for you?"
Hydrotherapy pools are often designed for a specific purpose. Our experts will take this into consideration at the planning stage, not only for the pool itself but aspects for areas such as:
Changing rooms
Shower rooms
Toilets
Access to the building
Access to the hydro pool
Ramps
Hoists
Lifts
Different levels of thresholds
Cleaning and maintenance
Hydrotherapy Gallery